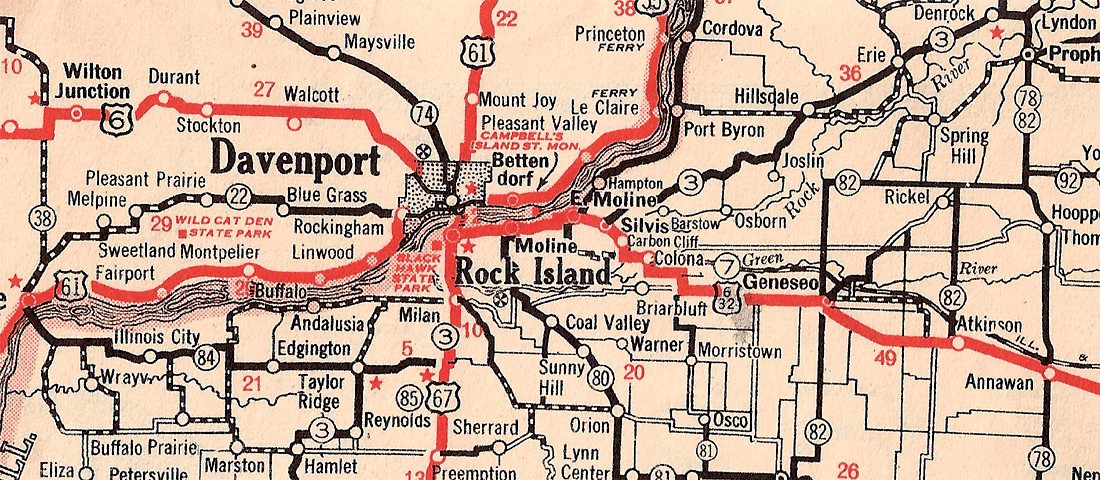 This 1934 official State of Illinois highway map shows the stair-step path taken by Route 6 between Moline and Geneseo, before the late 1930s re-routing of the highway southward out of Moline and straight east through Briarbluff to Geneseo. The older route took 6 through East Moline, Silvis, Carbon Cliff, and Colona. The map also shows that Route 6 in Illinois still carried the U. S. 32 numbering, even though 6 had taken the place of 32 across Illinois and Iowa in 1931.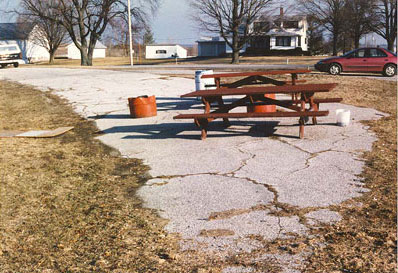 This graceful sweep of an old Route 6 segment, west of Geneseo, provides the platform for a picnic table. The original 90-degree turns in the stair-step route were later rounded like this one. (March 1997 photo)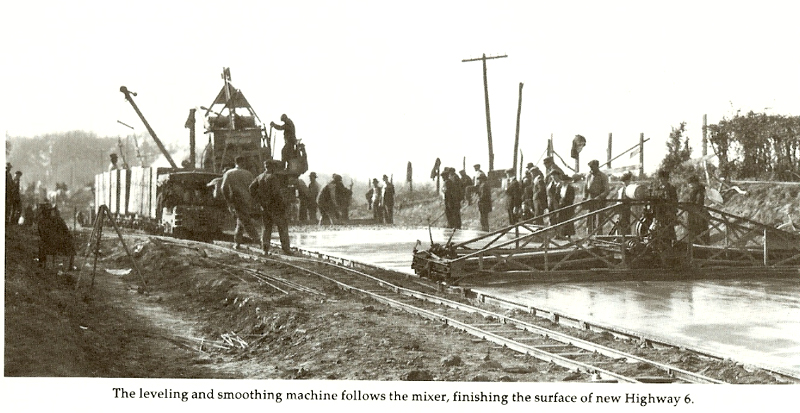 The above early 1920s photo shows the rather labor-intensive job of paving Illinois Route 7 west of Geneseo. This new hard road would become U. S. 32 in the mid-1920s, then U. S. Route 6 in 1931. Source: Geneseo Historical Association, Geneseo, Illinois: The First 150 Years. Dallas, TX: Taylor Publishing Co, 1985.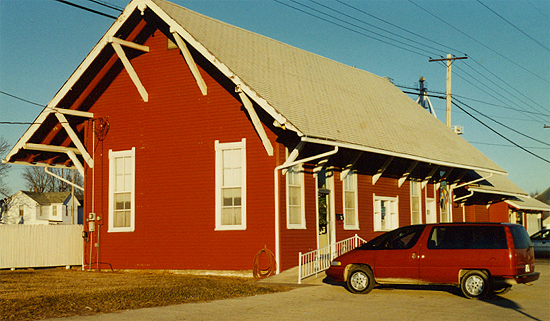 Route 6 parallels the old Chicago, Rock Island & Pacific Railroad tracks across most of Illinois and most of Iowa. Here is a March 1997 photo of the Rock Island depot in Geneseo. What was then called the Chicago and Rock Island Railroad first arrived in Geneseo in late fall, 1853, before being completed to the Mississippi River early the following year. In June of 1854, the Grand Excursion, a combination rail and steamboat trip from Chicago to St. Paul, came through Geneseo on two trains. A New York Times reporter on the excursion observed: "Geneseo is a thriving village ... on this rolling prairie, which was settled a few years ago by a colony from Genesee, New York. It contains now about 600 people, who, previous to the construction of the railroad, could have had little intercourse with the rest of the world."