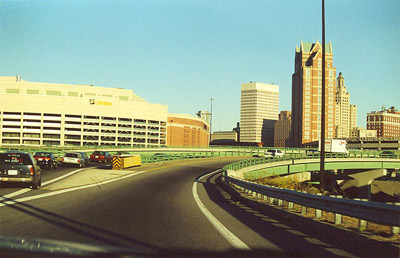 This October 2000 photo shows the main route of today's Route 6 through Providence. The current urban experience of 6 varies from city to city. In cases such as this, it zooms through town on limited-access highways; in other cases it is sent around the CBD or the city entirely on bypasses. In these situations, part of the game played by highway explorers is to find and follow the original route. Visible in this photo, partially hidden behind a newer building, is the 1928 Industrial Trust Building, which at 420 feet has been the tallest in Providence since it was completed. It is now known as the Bank of America Building.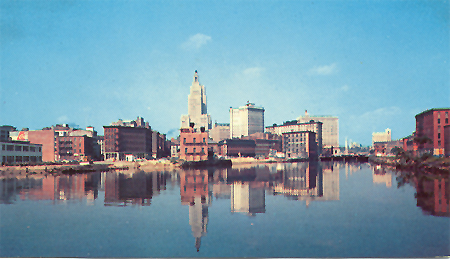 This 1960s postcard (above) shows how the Industrial Trust Building dominated the skyline of Providence at the time. A singular dominant skyscraper was common in many American cities in the mid-twentieth century. Some are on Route 6 including Los Angeles, Tonopah, Denver, Moline, Cleveland, and Hartford.
It was easy to see the Industrial Trust Building from Route 6 while negotiating the busy downtown streets, although it was a block away. Right on 6, however, was the Providence Biltmore (1920s postcard, right). It was opened in 1922 with 600 rooms. Although closed between 1974 and 1979, the hotel is open today with 292 rooms and is listed on the National Historic Register.