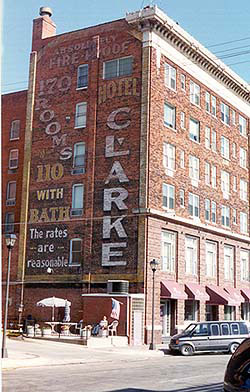 Early in the automobile era, downtown hotels catered to automobile travelers in addition to rail passengers. This sign on the south side of the Clarke hotel in Hastings is oriented toward both the railroad tracks and the main street taken by Route 6. The Clarke is now the Kensington, an assisted living facility. (July 1998 photo)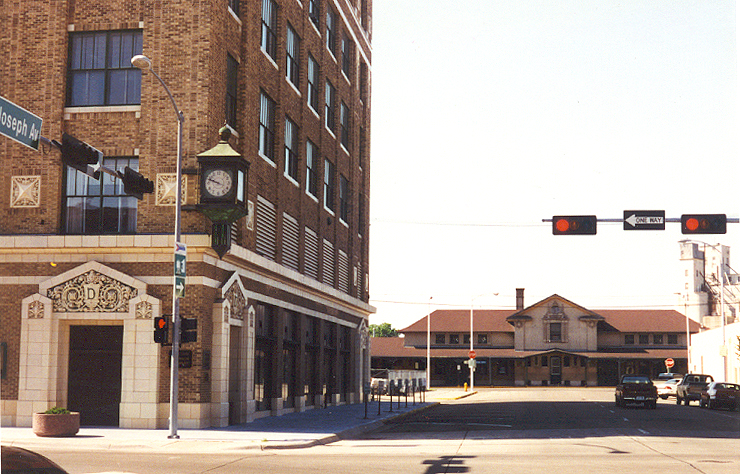 Two other landmarks in downtown Hastings are shown in this July 1998 photo. On the right is the Burlington railroad depot, which for over seventy years has been a stop for their California Zepher. Today, the train is still alive as part of the Amtrak system.
On the left is the 1920 Victory Building, the tallest between Lincoln and Denver. It is on the National Register of Historic Places. Quoting from the Nebraska State Historical Society: "Built to commemorate America's victory during World War I, the Victory Building, located in Hastings, is a six-story manufacturing and warehouse facility constructed for the Dutton Company, which was originally founded as a wholesale harness and saddlery company. The building was completed in 1920 and is an excellent example of 1920s-era industrial architecture. It incorporates advanced technical features, including concrete frame construction, a sprinkler system, steel fire doors, steel sash windows, and steel furnishings."
An early bypass took Route 6 south of Hastings. On the east side, near the spot where the bypass met the city Route 6, was this great old Hudson service station. It has disappeared since this September 1999 photo.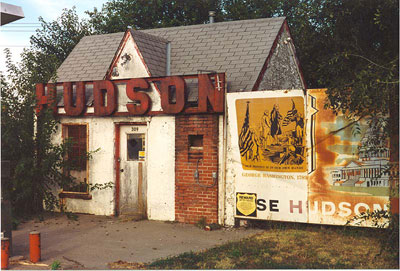 The Show Boat Auto Court was located a mile east of Hastings on Route 6. The back of this postcard, which was mailed in 1941, hastens the potential visitor to "East and Gas with Ed."