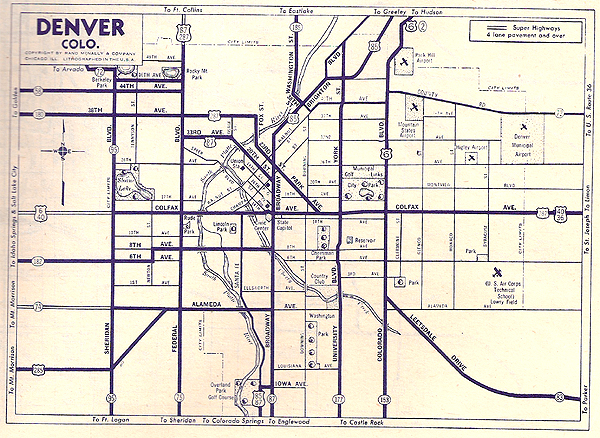 Before Route 6 was rerouted onto the 6th Avenue Freeway, Denver's first freeway, it shared West Colfax Avenue with Route 40. Colfax is said to be the longest highway commercial strip in the U. S., extending outward from downtown Denver both east and west for a total of about 26 miles. This 1946 Rand McNally road atlas map shows the Route 6 path through Denver, sharing Colfax with 40 from Colorado Boulevard westward through town.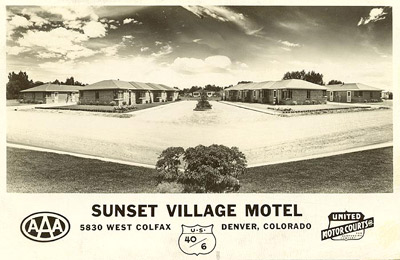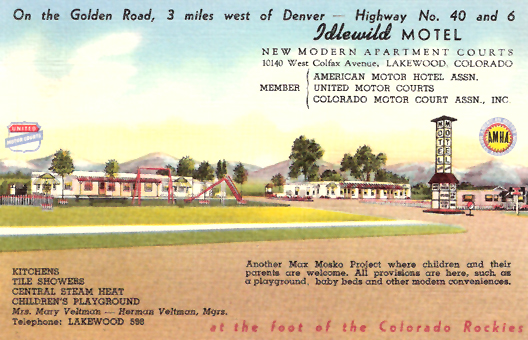 These postcards shows two of the scores of motels on the 40/6 Colfax strip west of downtown when 6 shared the road with U. S. 40.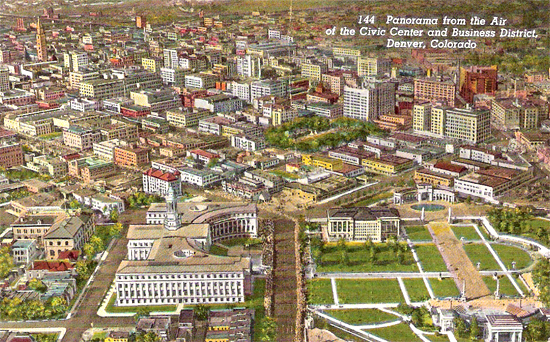 Route 6 has always gone right through downtown Denver. In the upper left of this 1950s postcard view is the Daniels & Fisher Tower, the tallest building in Denver for several decades. In the foreground is the Colorado state Capitol building and Civic Center.
The list of historic tall buildings on or visible from Route 6 is extensive. It includes Travelers Tower (Hartford), the Terminal Tower (Cleveland), the Le Claire Hotel (Moline), the WOW Building (Omaha), the Nebraska State Capitol, the Mizpah Hotel (Tonopah), and the Los Angeles City Hall.
One of the most significant is the 1911 Daniels & Fisher Tower, which is 325 feet tall. When completed it was the third tallest building in the United States, exceeded in height only by the Metropolitan Life and Singer Buildings in New York. It remained the tallest in Denver until the mid-1950s. This 1920s or 1930s postcard shows both the tower and its companion department store building. Today, only the tower remains, but it is now difficult to see from Route 6 because of the growth of taller skyscrapers that partially obscure the view. As of 2010, it was the 27th tallest building in Denver.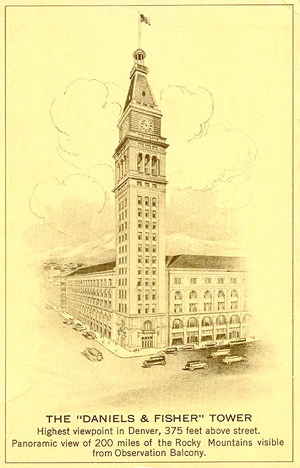 This 1950s postcard shows another view of Broadway. At the time the CB&Q (Burlington railroad) ran two of their streamlined Zephyrs from here to Chicago. The Denver Zephyr, which included Vista-Dome cars after 1955, made the trip in sixteen hours. The California Zephyr went through here on the way to the West Coast, using the Denver, Rio Grande & Western route to Salt Lake City, a route that highway 6 follows in western Colorado and eastern Utah. Because both trains ran overnight across the Great Plains, most stations in Nebraska never saw them in daylight. The July 1960 Official Guide of the Railways lists the four Zepher stops (two trains each way) at Hastings between 2 and 3:30 a.m.!