Where is Route 6?
Here is a brief tour of Route 6 as it was configured in the 1940s:

Yes, we are still displaying a left-coast bias by starting at Long Beach! Above you see the route of 6 from the traffic circle in Long Beach, through Los Angeles, across the high desert, and up the Owens Valley to Bishop, CA (now the western terminus of 6).
From Bishop, the great highway cuts a lonely path across Nevada and western Utah (although the loneliness can be lessened with stops in the old desert towns of Tonapah and Ely). The highway's northern-most extent in Utah is at Spanish Fork, just south of Provo. Southeast of there, it formerly went through Thistle. But, alas, Thistle is no longer there, having been wiped out by major landslide and flood in 1983.
South of Thistle, Route 6 goes up over Soldiers Summit and down through the coal-producing region around Castle Gate. It then proceeds up the western slope of the Rockies through Green River and Grand Junction, and over Loveland Pass.

After dropping down out of the Rockies, Route 6 goes through downtown Denver, the first of five state capital cities that it visits. The great highway proceeds across the Great Plains. This is a much more scenic traverse of the plains than any interstate highway. Then it cuts a tranquil path across Nebraska to Omaha, and then to Atlantic, the town that thought it was in the middle of the country. In Atlantic's county, Cass, Route 6 is now signed as the "White Pole Road," after the name that the highway held all across Iowa in the 1920s.
After rolling across Iowa and northern Illinois it bypasses Chicago; instead it chooses Joliet where it encounters that minor road about which a song was written, Route 66, and the Lincoln Highway, now Route 30.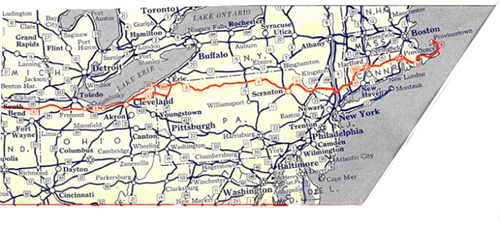 Across Indiana and Ohio, Route 6 misses most of the major towns, which had been already connected by earlier major numbered highways. It does, however, go right through downtown Cleveland. In the past it then separated into Route 6 and Route 6N, the latter following the south shore of Lake Erie to the Pennsylvania line.
The two routes met again in northwestern Pennsylvania. Those who take the long and slow path of Route 6 across Pennsylvania are rewarded with some great scenery and interesting towns. Eastward from there, it crosses the Hudson at Bear Mountain, and is becomes quite a busy road through Connecticut and Rhode Island. It is more tranquil however (at least in the off season) when as it curves up the north coast of Cape Cod on what is now Route 6A. The eastern terminus (which looks west as it turns out), is at Provincetown.